I have Notice There are some ~Minnor Erros~ in the server Like the commands and the Cash Shop.
For more details on what I mean go to Fourms/Bugs.
Thank you
Member





Posts

: 31


Mesarz

: 90


Join date

: 2010-12-26



I'd consider this a spam thread. If people are interested in bugs/issues, they'd go there on their own. No need to advertise threads.
Alpha Member





Posts

: 95


Mesarz

: 129


Join date

: 2011-01-15


Age

: 22


Location

: TreeStory :)



Well, Its not really spam, more of on update or a little bost to show that we have a few errors on the server. And I dont know but I thought we had a post somewhere about beeing nice to our fellow maplers and consider how they feel. If not, someone should post it. Because I persionally dont think its a spam (Dont think of this in a hatefull matter I am merely just explaining my thoughts and have brought in YOUR feelings in consideration.)

If it were somehting happening on the rage zone and they posted it in news and updates, then I would think of it as spam, because it is considered news in my eyes that we have bugs in the server

Happy maplings (Pulls off a Rex)
Cheers :p
Alpha Member





Posts

: 445


Mesarz

: 424


Join date

: 2010-11-28


Age

: 23


Location

: Canada, Ontario, Ottawa



Member





Posts

: 31


Mesarz

: 90


Join date

: 2010-12-26



In my opinion, There is no need to advertise for the thread u created in other section.
When a new thread is created, there will be red spot at the section to indicate there is a new thread being created.

@soul, as i said, Please do not post just becos of the requirement to write a application for a GM. Post stuff that are meaningful instead. Else will be considered as SPAM.

@pop, i do add "s" after mapling. hehe XD!~~

P.S. I will lock this thread and meanwhile tink if i gona delete this thread.
_________________
Rex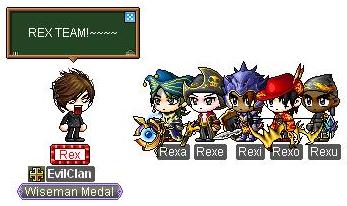 Moderator





Posts

: 187


Mesarz

: 207


Join date

: 2010-12-12


Age

: 27


Location

: Singapore



OH lols my bad T-rex :p
Happy maplings all! :3
Is that better?

Alpha Member





Posts

: 445


Mesarz

: 424


Join date

: 2010-11-28


Age

: 23


Location

: Canada, Ontario, Ottawa




---
Permissions in this forum:
You
cannot
reply to topics in this forum